Panama

City


Claims Adjuster

When challenged with a complicated insurance claim, the need for professional representation is crucial. By having a professional public adjuster to represent you, there is a higher chance of getting the maximum settlement you deserve. Committed to serving you and not your insurance provider, getting in touch with us is the right way to settle for a better claim.

Get a better settlement, free consultation.
how can we help you
Our insurance Claims
Services
Let's get the maximum financial compensation to ensure your full recovery from your property loss and damage. Whether it's roof damage, mold damage, hurricane damage, fire damage, and vandalism damage, Panama City Claims Adjuster is capable of handling all types of insurance claims.
Panama City Testimonials
Panama

City Reviews & Settlements

Our clients' satisfaction and recovery are of the utmost importance to us. It is also our responsibility to ensure a quick and hassle-free process along the way. Here's what our previous clients can say about their experience working with us:
Olivia S.
Services: Fire Damage Insurance Claim
William K.
Services: Hurricane Damage Insurance Claim
Cheryl S.
Services: Water Damage Insurance Claim
Noah H.
Services: Hurricane Damage Insurance Claim
Louis F.
Services: Hurricane Damage Insurance Claim
Giovanni G.
Services: Water Damage Insurance Claim
The Best Claims Adjusters in Panama City
How we
work?
Every case is unique in its own way. The severity of the damage varies, as well as the overall impact of the damage or loss to a household or a business. Thus, we make sure that we handle each case differently. We create a personalized strategy and approach to every insurance claim we handle to guarantee a better settlement.
01
Step 1 - Contact us
When in need of professional representation, simply get in touch with us by giving us a call at (855) 777-2524. Then we'll assign your case to one of our licensed claims adjuster whom you can discuss the details of your concern with. The professional claims adjuster designated on your case will also give you a free consultation, where you will address the problems and form a strategize a course of action together.
02
Step 2 - Onsite Investigation
We'll send a team to visit the site to thoroughly evaluate your property loss. And depending on your case, we may document a detailed inventory of every item lost, conduct a cost estimate to recover the property, and even take photos as supporting evidence to back our claims. If your property is a business facility, the loss of business revenue will also be taken into account.
03
Step 3 - Documents And Evidence
At this point, we must have already gathered all the necessary documents and substantial evidence to strengthen our case. Our job involves putting together all the documentation to finalize the case and ensure that everything is error-free, especially the reports and cost estimates. We also need to make certain that potential gaps have been filled in and every scope has been covered to avoid complications once we present the case.
04
Step 4 - Case Submission And Negotiation
Negotiation is a crucial part of filing a claim. Without a professional claims adjuster by your side, it's easy for your insurance provider to take advantage of you. As a claims adjuster, it is our responsibility to present your case and negotiate with your insurance provider on your behalf. You can rest assured that we will aim for the maximum settlement possible to ensure your recovery.
05
Step 5 - Settlement And Conclusion
This is the part where we get to enjoy the fruit of our labor. We trust in our professional licensed claims adjusters and the exceptional services we offer that we can guarantee a positive outcome. And remember, our services remain free of charge until we are able to provide you a settlement that works for you. That alone should tell you how much we take pride in our people and our services.
Let's get started
CALL US NOW - (855) 777-2524
How can we help!
How Much Can You Save By Hiring A
Claim Adjuster

?

Studies reveal that by hiring a claims adjuster, the amount of settlement you can get may dramatically increase up to 78%. After all, there's nothing for you to lose by hiring a claims adjuster because our services remain free until you get a maximum settlement.

(855) 777-2524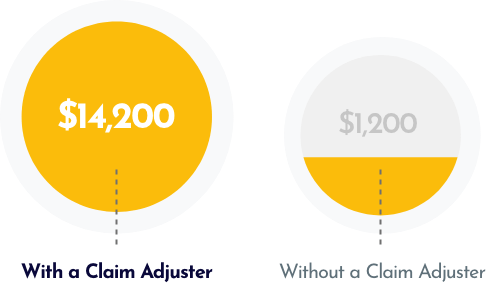 Affected by
Hurricane
Irma

or Hurricane

Michael
Hurricanes Irma and Michael have left the majority of property owners at Panama City devastated. Although it has happened a year ago, it's still not too late to get maximum coverage so you can recover from property loss and damage.
If you're one of those who suffered from these natural disasters, reach out to us and we can help you file a new claim or re-open an existing claim. You're a policyholder, you have the right to a settlement.
CALL US NOW - (855) 777-2524
Call Now.